Don MacPherson Memorial Community Fish Hatchery
PURPOSE OF PROJECT
Currently SWFSA purchase all fish fingerlings from commercial fish hatcheries throughout SE Qld. The setting up of a local non-profit fish hatchery will enable SWFSA to put many more fish into local waterways for the same amount of funding thus creating a much improved effect for the local economy. For example, the current commercial price of silver perch is around nine cents per fish, SWFSA will be able to produce the same fish for approximately 0.3 cents per fish.
The setting up of a community fish hatchery will most certainly lead to a more productive local fish enhancement program and allow SWFSA to become less dependant upon ongoing fund raising and grants.
Increased fish numbers will allow the fish stocking program to be expanded to wider areas.
NAME OF THE PROJECT
The hatchery was named after the late Don MacPherson who for many many years was an avid supporter of fish stocking programs, fishing, and in particular this fish hatchery. Don was always there when S&WFSA needed help on getting doors openned, things made and funds raised. Don's family were honoured to have his name associated with this project.

THE PROJECT SO FAR
2001
With the support of Ipswich City Council, SWFSA were able to secure suitable land to build the fish hatchery. The area was fenced off & conceptual plans done, The task of erecting the main building, grow-out ponds and install the necessary equipment was completed with the assistance of local businesses and the Bremer TAFE.
Click on the images to view a larger version

2006
The Hatchery is now fully operational. The Office / workshop is complete, grow-out ponds up and operational, shade house over the ponds is ereted and the first fish have been produced for local waterways. The grounds have been landscaped with native plants, and due to the on-going drought water tanks are now used on-site.
| | | | |
| --- | --- | --- | --- |
| | | | |
| Grow out ponds & Office before the shade house was erected | Shade house erected over the ponds | Spawning / fry tanks | Golden Perch brood stock |
Click on images for larger version
Funding
SWFSA is normally self funded through various enterprizes such as raffles, art unions, seminars, and the annual Kirkleagh Klassic Family Fishing Competition as well as from regular grants from local councils & donations from fishing clubs.
To maintain fish stocking throughout the hatchery project, SWFSA are currently seeking seed funding to purchase the neccessary sheds, pumps, swimming pools for grow-out ponds, piping and all the associated equipment and sundry. For this project to come to fruition within 2001/2002 stocking season, financial support is needed in the form of donations (either monetary or in product) and/or sponsorship. All businesses in the fishing industry and local businesses are encouraged to support this project. Once established,the day to day running of the Ipswich Community Hatchery will be self sunded through the usual methods with SWFSA diverting money from purchasing fish fingerlings from commercial hatcheries to running costs. DPI Fisheries Division will also financially support this hatchery to $2000/annum once operational.
THE FUTURE & BENEFITS
It is hoped that within the future, SWFSA can produce many, many times more fingerlings for local lakes and waterways that ever dreamed of previously.
The benefits of a well stocked fishery on local industry and tourism are not an unknown factor. In a study of angler expenditure it was fould that for every dollar spent on fish stocking, $18 was spent by anglers persuing the fish. Now if SWFSA can produce 20 times more fish than normal (via the hatchery), then there is evidence to suggest that over $350 comes back to the community for every dollar spent.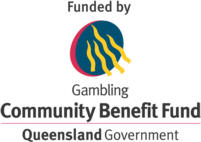 The Queensland Governments Gambling Community Benefit Fund is proud to provide funding for the Ipswich Community Fish Hatchery.
The Somerset & Wivenhoe Fish Stocking Assn acknlowlege the support of the, Qld Govt Community Benefit Fund, Ipswich City Council, Esk Shire Council, Australian Monofil, Sunland Fish Hatchery, Q Build, Mr Vince Collis and DPI&F for thier financial, in kind and on-going support in taking the Don MacPherson Memorial Fish Hatchery from a concept to a state of the art fish hatchery. The Executive and members of the Somerset & Wivenhoe Fish Stocking Assn extend thier appreciation to all of those mentioned above.